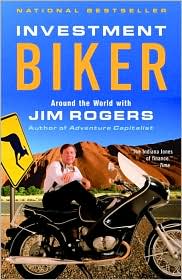 A few years ago my brother gave me a book Investment Biker. Written by Jim Rogers a VC who took a motorcycle on a tour of the world and then from what he learned made investment decisions. I think we'd both like to follow that dream and ride around the world that way. I know from my many travels that each new place can fuel curiosity and insight.
I know I've been very lucky over the last two years to have lived for extended periods in India and visited many different parts. For similar reasons China has been on my wish list for years and I'm still not sure when I'll get there.
Many years ago I also led a management team out of New Zealand and on a round the world learning journey. It changed how we approached the local market. It made us better at asking questions about what people do. We also were forced to ask ourselves why we did things in certain ways. We also ended up buying home grown costing software from Ireland. We brought stories back and told them. We put them into a local context. Reading about Sony in the Wall Street Journal today and there is a similar story.
The desire to travel and invest or expand and or import both ideas and learning are powerful reasons to reach out and explore different markets and the way things are done.
While I've been working more and more with Dina on research projects I've seen instances where the client never really gets into the market. It's left up to the researchers. It's also the research departments in firms (or suppliers to that firm) and often not the "product" or "innovation" teams that makes the visits. It takes a team to rethink a business and that must be cross disciplinary.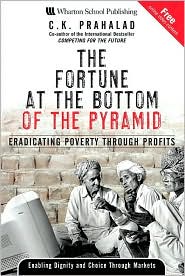 A few years ago the laundry business was rethought for the BOP, Base of the Pyramid and the case study for laundry sachets is widely known. It's expanded to Shampoos too etc. While in India this last time I spoke with a company that was spending 100's of thousands on product development research. They were completely lost. In fact I think the problem was they had sold a promise and an approach which was turning out to be both impossible and unlikely to deliver any product at all. They were focused on the consumer and income levels. However, they had failed to understand the systemic changes required to bring about change. Their problem was they hadn't either found a good local guide and or found "remarkable" people that could really help them see new opportunities. In the meantime they were burning up their research budget.
I've found India fascinating. The need to research a company's product opportunities and enter or improve growth in the Indian market being key motivators. I've also noted a growing trend. More teams and people are coming from the mothership. That's good. It also means they are dwarfing the cost of the research with travel (most go business class) and five star hotels which aren't cheap. Add in a week's good living etc. and the real cost of the project may be buried in expenses. The local research cost relatively may be small.
This is both good and bad. Good that these teams are visiting and seeing things first hand. Bad, in that few companies are taking a broad enough view of the local immersion. Going half way round the world for a few groups misses out on too many other things that should be in the consideration set. The real ah ha….'s won't come out of a single in-home visit or from listening into a focus group alone. More importantly to me is that the most innovative new products seldom come out of a group or a single insight. They come out of understanding the "friction" between different needs and environmental factors.
I'd probably argue that if you are spending on multiple global centers, I'd spend the same and expect more relatively in the markets that are exploding – china, brazil, india, etc… than in markets that your traditional success has come from.
Research costs are not the same globally, although great insight and advice always comes at a price. The simple fact is you can still do more groups, more in home, more ethnographies in emerging markets than you can in the US or Europe for the same bucks. Thus I'd argue invest the same bucks and expect to get more. Go more in-depth in these markets and then take home new questions and test them.[pic on right courtesy behavior research]
For the most part I still feel that local or domestic market research influences emerging market research. I think this is ass backwards. Use the emerging markets to influence how you think about your more traditional markets. You may be surprised by the results.
Then the cost of investing a few extra days in "learning" too is negligible. What it does require is a "guide", access and planning. It can't be random if it is to have impact. Recently a healthcare group came over. On day one they were "exposed" to traditional Ayurvedic Massage. Which also means "naked" (barring a loin cloth) and lots of oil being massaged into your skin and scalp. (It's awesome and shocking the first time). That little event more than broke the ice – it created confidence and the desire to look at everything differently.
Its become common practice for us to encourage clients into this zone. Concurrently, it helps to capture lots of pictures or video. I think there are even more opportunities to share and create and there's a need to take artifacts back home. The success in the end is the stories people tell when they go back home. Research should provide rich stories and easy ways to tell them. Linking them to learning points, remarkable people, things you have experienced first hand brings in the emotion and the passion for these opportunities.
While it is easy to talk "market research" or "customer insight" it's all about learning and how that is transpired. We participate therefore we are! If you really want to energize your product development / management team, immerse them in a larger learning program and move the event into the emerging market, concentrate some research, confront their senses, provoke them with "radical – remarkable people" and help them create scenarios. Then evaluate back home after additional work and create the strategies on how your decisions should play out. That's our approach at Mosoci!
I guarantee you will get a better return; on insight, on options, assessment and evaluation.