There is a Serious Play forum on now at Group Jazz Chautauqua with Lisa Kimball and Susan Doherty. Open registrations. Howard Rheingold will be participating there in January on Smart Mobs. See their program. These tend to be interesting discussions. Get on their list. You may want to wade in from time to time.
Current topic Lego Serious Play with Jody Lentz emerges from a practical strategy application using Lego and an "imagination play" metaphor. It also reminds me of the book with a similar name by Michael Schrage which I really enjoyed.

The book has a simple premise. What type of culture are you. A spec to prototype culture or prototype to spec culture. Critical to this is modeling. beta testing etc. The later suggests faster learning, more muddling though. Stories, illustrations, models are all important here. At time there must be rules and other times no rules. I'm sure the structure of the Lego product can be made to work both ways in reality. Go try cyber building with it! Ultimately, "bricks" may help with strategy, but nothing replaces excellent tools for the mind… including great facilitation, context and the excitment and enthusiam of dealing with complexity.

Wonderful to find Stacy's Agreement / Uncertainty matrix presented so well. Found via John Keldon at Sign of Knowledge. His link to Plexus Institute finds many interesting links.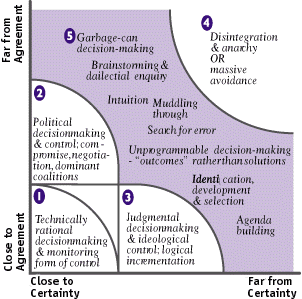 As I blog… I'm far from certainty and similarly perhaps far from agreement… thus with inconsistency I can continue "muddling though" searching for the creative zone while following the fashion for – self expression.