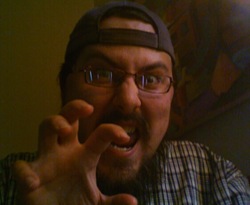 Marshall Kirkpatrick writes 5 PR Pitches: The Good and Bad provides examples and and I have to sympathize with him. RIght now we are back into Von season and I'm getting all sorts of VoIP junk in my mailbox (I used to write Skype Journal; and yes I'm still interested in very select stuff; no I am not at VON). I also will be writing up learnings around KMWorld 2007 which I am going to on Nov 6 to 9. For that I'm already getting all sorts of PR stuff just like Marshall's examples. I also am looking forward to KMWorld2007 and thought I'd actually go through the list and highlight some I'm interested in and post that separately.
Let me make try and summarize Marshall's points quickly.
Relationships Matter – I am a person
Give Me the Info – Don't waste my time
Is it on Topic – For my readers and Interests
Where do I fit in the breaking news kind of thing?
I need specifics
As may be expected the comments already on his post are great; some are priceless and I learned from them too. It's a must read!
Let's take this further: I've split this now into two parts. A) Things about me and B) What more could PR do? Context? I'm a marketing guy, not PR and I've been blogging a long time.
Part A: Things about me relating to Marshall's points:
In fact you can almost read Marshall's statement for blogging and consulting and subsitute for me running my research and strategy business. I don't talk about my clients . I do write a blog and I learn a tremendous amount from it. A good portion of my network and my thinking is very visible. I share to learn.
Relationships do matter.

I actually like knowing who's sending the info. Are you on Facebook? Send me a personal note no fluff. As a PR firm linking your interests to my interests via your blog from time to time suggests we can help each other. That should be easy. Mine is focused on communications (particularly VoIP & Mobilty) and Social Media. The simplest gesture today is simply to del.icio.us all posts that you see that relate to a PR program you have run with these tags 1)author, 2)product, 3)PRfirm, 4)general category 5)maybe even a release number. If you were smart you might even start creating "groups" and invite the same bloggers into them. Why? builds relationship and community amongst people that have different views around the same thing.

Give me the info.

Also give me how and who I should contact at the company. In my case I'm most interested to test the product. The last thing I want is a screenshot demo. I'm interested in lightweight tools if we are talking about social software. I'm interested in testing and very wary about bringing in friends. You'd help me more if you had buddies etc I can test with. I have my own crew…. still our time is money. Sometimes its better to involve us in "breaking it" before telling me how it works. Imagine I'm a Martian and was just going to hack it. On things like Skype Phones, extras etc. I can make an observation (I can even lust after a product like Pleo if I see the right one) however, the best thing again is to let me use it. I've not written up some things because they are just too bad. I've also seen products make massive improvements over time. The one's I've put a post or two into; well… I'm likely to put more into them again. (Reminder blog N95 using GPS and Google MAPS better than the Nokia version!).

Is it on topic?

I've sort of spelled out my topics and interests. So let me turn it around and spell it out for the KM folks where there is again lots of innovation going on. I believe that Social Media, and all the social networking, communications enhancements etc are what KM is all about. So I will come at it from how does it accelerate innovation, real-time communications, enhance learning, create new connections etc. How does it help with the creation of something new. My hat will also be on as a user. I don't like the word Consumer. I like people, community, relationships, conversation and facilitation. After all I'm in into insights and behavior.

On Breaking News.

I used to suffer through all sorts of crap about Skype breaking news. One day we would get embargoed news.. the next minute we didn't. I'd watch as others broke embargo's and we kept our word. I can only break trust once. Then you won't trust me. I know this and it isn't in my best interests. If you want me to be part of a breaking news story or support it… you cannot guarantee I'll see the twitter feed or something or that I have the time to jump. It's certainly nice to be part of breaking news (on Skype Journal you basically had to get it). So… identify those blogs that must get it. However, don't neglect those that might be really motivated to write it up too. Breaking news today is minutes. For the most part I won't bother. However, at a show or conference I may be part of a broader discussion. Knowing what's coming up can help. So don't tease me with embargos or know that yes I want to break the news, don't ask for NDA's, work on the relationship and don't waste time on innuendo. Brian Solis has a great post on this.

On the specifics.

I really don't like the blurb stuff much. Visuals are better at grabbing me. I'd really like stories about how users are using it. What makes it different etc. Or what can I do or am I likely to discover. I'd prefer links eg link to PR Release. Use forward with public and private for the embargoed stuff. I'm also more interested in… how to test, test account, who can be added in real time or how to do it. For the most part services that are going to cost a lot of money aren't going to be my thing. However I know a few large companies that do have large budgets.

Finally appeal to "beta".

That's how I'd prefer to blog it too. We're in beta together, that means we should be having it as an ongoing conversation. That also suggests that t

he PR updates… the Blogger Briefs

(that nobody to my knowledge is creating) for each company & separately each PR firm should be easy to subscribe to and easy to drop out of.
Part B: What more could PR do? Extending the Beta idea…
The Blogger Who Isn't Known:
I'd think about identifying the potential / future talent the ones to watch. Identify potential influencers. You can start the dialog via a comment. If you were a little more organized you'd give them a key or link back to where they can get future information and notifications. Most bloggers are hungry for information and might just take you up on your offer. Other readers may go and look at the comments and the one you have left and go and get the PR release. One done appropriately it is not a spam blog link. You may gain some authority and find / open doors for new and further influence.

The Online Visit from the Company.
If I talk about about one of your clients, and they come and visit. Even a thanks for your thoughts and here effectively is my email works wonders. Richard@Dell stopped by this week, and I've had visitors from MyBlogLog, Jajah etc. I'd suggest you join MyBlogLog. No harm in showing you visited a blog. Use your real name! Companies the same thing. Knowing you are being watched.. is a powerful motivator to do better.
Think about how you can Train Bloggers:
When a blogger tells a story, and it's an insight it's gold; no matter positive or negative. It's the learning engine and it's what can go viral in minutes. Brands are held in a conversation. Bloggers network conversations, by linking, tagging etc.
It's not the Big Blogs Anymore:
A well crafted single post will good links; references to key bloggers, well formed tags and focused subject area can be quoted by the NYTimes today. Sure it may help if they are know, frequently quoted by Scoble etc. Point is.. any blogger worth their salt now has searches out for the names. Thus an unexpected blog may turn into something big in hours. Thus you too need to keep track of all these bloggers that you think may also be influencers. Example I think I can still pop up on the VoIP radar, or Skype radar.
Write Blogs to Bloggers.
I don't see blogs written to bloggers very often on behalf of a company by a PR firm. The sort of wonder if Stuart, Tom, Fred, x, y and z would think about this. It's not quite the way to write it. It is a way to start a conversation. The devil is.. You will have to read their stuff. You will have to link to their posts; you will have to ask for a background story or illustration. I believe you are safe if it builds the conversation. (I've heard too that all PR is good!). Point is… comments also engage my readers and that may well be important. 90% are lurking!
Work with me on Metrics:
We need new metrics. PR companies have to make money and justify resources. There's a new set of metrics that are required. Some are obvious some aren't. You cannot build the program if you don't provide the metrics. #of mentions in blog posts and a clipping service isn't going to cut it.
CLOSING REMARKS:
My blog is basically my thinking and sharing space. It's also where my interests lie at any one point in time. Right now… I've noticed that PR companies are really (finally) getting turned on to Social Media. That means their clients are or will be too. I can help the client and you get them to PR2.0. It's also why each time I get a PR pitch I will look at it from a PR2.0, Brand2.0, Enterprise2.0 and general "we're the people doing 2.0" sort of approach. In a nutshell conversational blogging. Thank you for reading!
Tags: pr2.0, brand2.0, marshallkirkpatrick, socialmedia, PR, bloggerrelations, blogging